As a kid, I was fascinated by Star Wars. Even if you never sat through 15 minutes of any of the movies, you at least have an idea what it is. Or you at least may know about these four things:
1 Light sabers
2 Darth Vader
3 Chewbacca
4 THE FORCE!!
The force is probably the most important concept of the movie, the universe and life itself!
Ah, the good, carefree childhood days when my imagination ran wilder and I would put underwear over my head (usually clean ones) and pretend to be Darth Vader. I'd swing my big stick around (do some habits continue into adulthood??) and make the whooshing sound with my mouth as I fought my younger brother "Luke". Yet, nothing beat the thought of having actual Jedi mind powers so I could control people and get them to do my bidding with a simple wave of my hand. Even more awesome would have been the ability to read another person's mind!
Sadly, no matter how many briefs I donned or whooshes I made, George Lucas' story was just that...a story and a great one at that too. Interestingly, there is a Church of the Jedi with growing followers in England, Wales, Scotland and even here in the US. They probably believe that 900-yr old Yoda actually existed somewhere in the universe and follow his teachings. They may believe that Star Wars is in fact real. Even more fascinating to me, is the people who truly believe that YOU are in fact a Jedi. That you actually can read their minds and know what they're thinking. That you do have and can
use the force
.
I think I may be a Jedi. Or at least I think that's what people think I am. They must be because I always seem to end up in a situation where my friggin' mind powers of telepathy are being put to the test. I fail pretty much most of the time. Here are some examples of instances with me and the force gone wrong.
Example 1
: This one time while driving down the highway, this moron in ahead of me in the lane NEXT to me (I figured he was one by using my force a few minutes before) decides to waltz across in my lane suddenly and with no possible, recordable use of an indicator. Then when I honked my horn, he had the nerve to look at me with the characteristic look of a
#1
. Why I'd like sure like to use the force (of my boot up his...) on him, I tell you! But after quick reflection as we Jedi road warriors must do, I realized that it may have been my fault. I did not use the force. I was supposed to know he was about to switch lanes even if he did not use an indicator or give ANY sign what-so-ever. Oops, he did it again! This male embodiment of that popular Britney Spears song had swerved back across into the other lane and now swerved once again back into my lane. Again, no indicator. Again, no use of the force by me either. Unless you count the thought of extending the second finger from the thumb.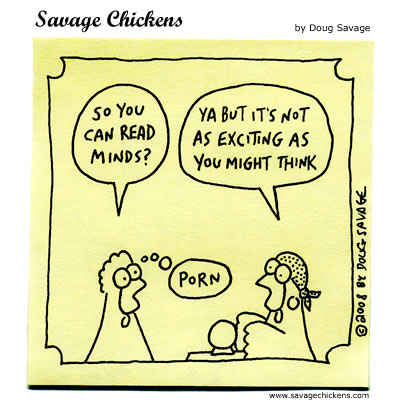 Example 2
: A past lady friend of mine always expected me to read her mind without any utterance of a word. This is the true acid test of a real Jedi. If he can read a woman's mind. And ladies, this one applies to men all the time. As that famous sociologist guy from that great show (vague, unreliable evidence) once said, "Men are easy to read like a open 2nd-grade book while women are like that advanced masters dissertation in theoretical black hole physics." Hey, he said it. Not me. Anyhow, I tried hard each time to use the force but it tended to backfire since I am not an actual Jedi and in fact do not have the force. I wish I could have waved my hand and make her talk to me. One time she was real mad and she tested me to see how good my force was. I had to somehow figure out what she was upset about. Each time I got the wrong answer. I gave her a look of frustration that hinted "Whatever! I give up". She then asked why did I seem nonchalant and did not care. She was right. At that point I was and felt like I didn't. Just tell me already. Hmmm...maybe she was the true Jedi master after all.
Example 3
: I like walking just as I like driving. I realize that sometimes I view walking and driving similarly. I like clear signals in both cases. So, I'm walking in hustling, bustling Chinatown in New York. People are racing and rushing to get everywhere and it's so energetic and lively. I'm trying to head to the 1 or 2 to go meet up with my friend at Times Square. I was already running late since I just had to stop and grab this Rolex (wait?! Looking at it closely, why does it say Rolax? Dang...A waste of 20 bucks. Guess I wasn't the one getting a steal of a deal after all). In front of me, is a group of lovely Asian tourists with their NY caps and t-shirts and Sony and Nikon cameras strapped around their necks. Thing is, that's normal. It's New York. Yet, what's blindly annoying is this group of 'professional' photographers are stopping every few seconds to take a picture of everything. I mean everything. Again, they expect me to use the force and know that they are stopping. Yet, why do they look surprised when I keep bumping into them from behind? What's worse is that they remind me of that fat kid who got stuck in the slide at the playground and kids got stuck behind him. It's the same, nothing can pass. And they walk with their noses in the air too. Not because of the occasional stenches around. After all, it's Chinatown. Or because they think they're better than these Americans in NY. But because they have their friggin' heads pointed up in the sky looking at every building and skyscraper or building taller than two feet. And they're taking pictures of everything they see. I swear you can't find a better historical, useless record of buildings anywhere else. Oh to use the force and move them out of the way. But no. Apparently, I'm supposed to use my astute Jedi mind to know each time they are stopping to take a picture of every building they pass.
Example 4:
One instance of the force gone totally wrong. Silent passing of the gas to make someone leave. Though this one time, it was this force was used on me and I had to use my force to know I was to leave. So a bunch of us guys are all watching a game on TV, eating wings and drinking Bud Lites. Just hanging out in the dorm, good old fun. The air's on since it's hot outside and it's a small room. You know the regular dorm rooms? Well, it's about half of that. Suddenly, a pervasive, pungent odor fills the room and we all shout out in disgust. My boy, B, is the only with that silly 'gotcha!' grin on his face while we're all holding our noses and scrambling for the door. No prior warning. No sound. Nothing. I was supposed to use the force to counteract his 'dark side' force because it was evil, trust me. Use my force to know to leave the room 5 minutes earlier or tell him to step outside quickly. That force of his was pure, unadulterated evil. My Jedi powers failed me again.
Don't worry, there are plenty more experiences I have with the force or people expecting me to use the force. I'll rant about some more real soon.
Until then, may the force be with you! Aargh!